53# True Breakout System Basic
Breakout Forex Stratey
Submit by ZeeShan 01/06/2013
Forex Strategy RULES
1. Don't wait for candle close to enter. ENTER AS SOON AS SIGNAL APPEARS if the conditions below are met.
2. Don't trade on "NO TRADE ZONES" regardless of what signal is present. If a signal breakes the "No Trade
Zone", only trade if price has not moved too much away from it, because profit might only be small.
THE IDEAL SETUP FOR THIS FOREX STRATEGY IS TAKE THE SIGNAL WHEN PRICE HAS JUST BROKE THE SUPPORT/RESISTANCE ZONE.
That way, there will be more movement to follow.
3. In one Trading session its best to take the fisrt signal. Second signals are ok, provided that it is stronger that the previous.
Example1: If the first signal is a HIGH hitrate signal and you already hit tp, then ignore all the GOOD hitrate signals within the same day.
Example2: if a GOOD hitrate signal happens and you miss the trade. Then afterwards, a HIGH hitrate signal happens, you can take the HIGH hitrate signal because it is stronger. Provided that it is not near on the "NO TRADE ZONE".
Note: The approximate stoploss is marked by "X" on the screen. Its best to add 3-5 pips for our spread.
IDEAL TRADE SETUPS
BUY
In the pictures below True Breakout System Basic in action.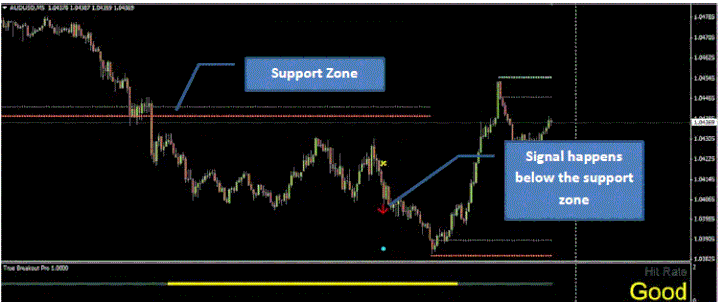 SIGNALS TO AVOID
FALSE SELL SIGNAL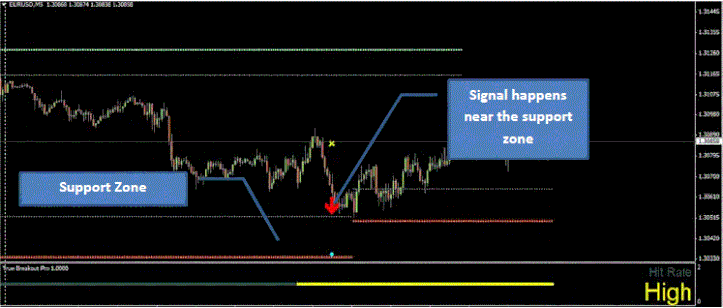 Forex Strategy Exit Rules
The blue dot is our approximate take profit. It varries based on volatility. To maximize our profit, we can
take out 70-80% of our position as soon as price is near the dot. Then trail our remaining position left.
Since breakouts often yeild more than our takeprofit.
Forex Strategy Money Management
Move to Breakeven when in decent profit (more than 15 pips). You can also close your trade if its near a support/resistance zone if TakeProfit is not yet hit.
To see pdf
Share your opinion, can help everyone to understand the forex strategy.
Breakout Forex Strategies