60# Trendline Demark Breakout system
Demark Breakout
Submit by Frank 03/06/2014
Trendline Demark breakout system is a forex strategy based on the trendline price action.
Markets: Forex, CFD, Futures, Indicies, Metals.
Time Frame H1 or Higher (best time Frame 4H or 8H, 12H or daily).
The first indicator is the one called "DeMark Breakout''.
This indicator tell us, where and when to buy/sell. And where to place our stop loss and targets.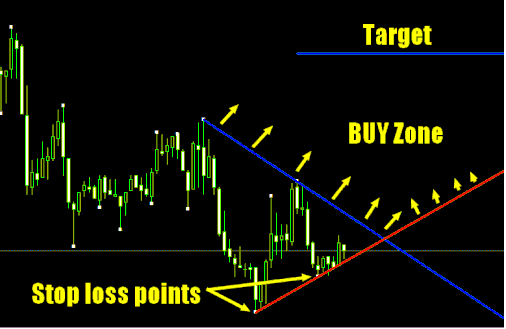 Buy Zone is the area above the Blue trend line. When price cross this line, time to buy
the currency pair. If price cross the Red trend line, that's a SELL signal.
You will notice a white dot on the top or below the candles. Those dots tell us
where to place our stop loss when we enter the market.
If you can't see the white dot, you can change the settings of the Demarke indicator as follows: (change the width of the dot to be larger).
For confirmations, we are going to use a second indicator. The one called ''BBand
Stop Alerts''.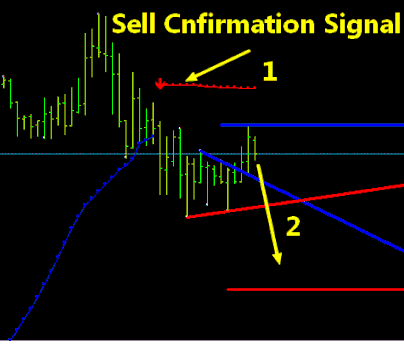 We are only going to sell, when the last arrow/trend line before breakout was a red
arrow – Red dotted Line.
And we are only going to buy, when the last arrow/trend line before breakout was a
blue arrow – blue dotted Line.
Stoploss : Last support/resistance ( white dots ) Target: Horizontal target line.
Long Entry
1 – Price breaks the Blue Trend Line ( DeMark Breakout indicator )
2 – Last arrow signal was from a blue arrow/dotted blue line ( BBands Stop indicator )
If both conditions didn't happen at the same time = No Trade.
Short Entry
1 – Price breaks the Red Trend Line ( DeMark  Breakout indicator )
2 – Last arrow signal was from a red arrow/dotted red line ( BBands Stop indicator )
Use trailing stop loss to lock your profits

Trendline Demark Breakout system
Trendline Demark Breakout system.rar
compressed file archive
34.0 KB