64# Channel Breakout ATR
Channel Breakout Trading
Submit by Joy22 01/05/2015
Channel Breakout ATR is a trading system based on volatility ad the breakout. This system is based on the indicator of breakout.
Tips: For this strategy is very important find the currency pairs in trend with a good angle.
Time Frame 15 min or higher.
Markets: Stocks, Forex, Commodities and Indicies.
Metatrader Indicator:
Channel Breakout ATR default setting.
New ABHAFX Timing.
ADX optional.
Trading Rules for channel Breakout
Buy
Place a pending buy order 2 pips above the green dot.
Sell
Place a pending sell order 2 pips below the green dot.
Why, the entry of green dot?
Because it is safer with fewer false receipts.
Exito position
Place intial stop loss on the previous swing high/low or 2 pips above/below the setup bar.
Profit Target ratio 1:1 but for high profitability ratio 0.3:1 example if you stop loss is 30 pips you profit target is 10 pips.
Tips: for managemet position you can use an EA trailing stop.
Happy Trading.
In the pictures Channel Breakout ATR in action.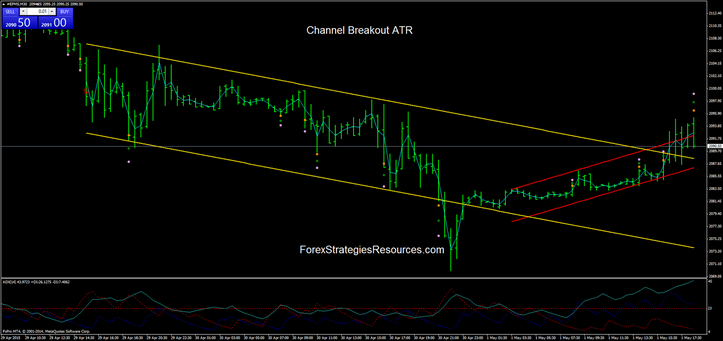 Channel Breakout ATR