19# Doji Star system
Doji candle formation
Submit by Murcu 21/05/2014
Doji star system is a method is very easy and profitable. There non indicators to, use at all.
This trading method is based on the candlestick pattern know by Doji candle.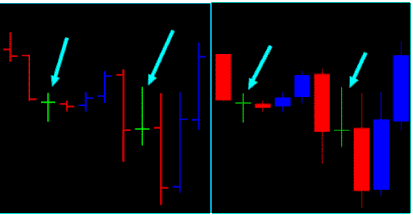 Notice how all other candles, have a different open/close level. The Doji candle have de same open/close level.
This candle formation could be found on all pairs, and all time frame, but the higher time frame is the better.
How it Works
first of all, the doji star we are talking about must have an special formation, this formation should look like a cross with the tail of the candle=more than 75% of its size.
The method is not a holy grail, we need confirmation to filter the signals: support/resistance and breakout are very powerful in telling us if price has changed its direction -yet- or not.
See how Doji trade withe support and resistance level.
Step
we get doji star signal

We set our support and resistece levels. And get ready for support breakout.

Sice the first signal "down move" we opened a sell trade right after/support and support/breakout.

The stop loss level is the last resistance level.

Target Ratio 1:2 stop loss level.

If the stop loss is 50 pips the profit target is 100 pips.

After setting the target price we setup a trailing stop or move stop los level for protect our profits.
For example see pdf in attach.

support and resistance indicators
support and resistance indicators.rar
compressed file archive
38.9 KB