7# Bearish Engulfing Pattern Trading System
Submit by JanusTrader
The Bearish Engulfing Pattern is directly opposite to the bullish pattern. It is
created at the end of an up-trending market. The red body completely engulfs
the previous day's green body. This shows that the sellers are now
overwhelming the buyers. 
Description
The Bearish Engulfing pattern is a major reversal pattern comprised of two
opposite colored bodies. The Bearish Engulfing Pattern is formed after an
uptrend. It opens higher than the previous day's close and closes lower than
the previous day's open. Thus, the red candle completely engulfs the previous
day's green candle.
Criteria
 The body of the second day completely engulfs the body of the first day.
Wicks are not a consideration.
 Prices have been in a definable uptrend, even if it has been short term.
 Prices are at a major level of resistance.
Additional Pattern Enhancements
 A large body engulfing a small body.
 If the engulfing body engulfs several previous candles.
 If the engulfing body engulfs the body and the wicks of the previous day
 If the pattern forms after a Doji
Pattern Psychology
After an uptrend has been in effect, the sellers have taken over and moved
the price below where it opened the day before.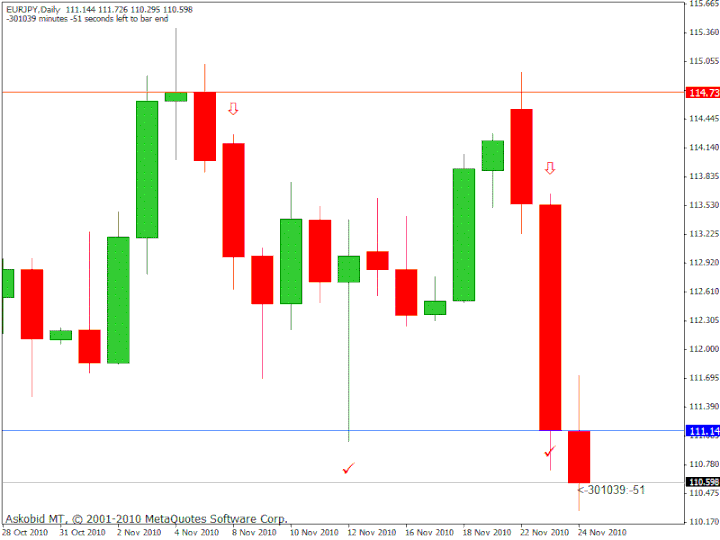 On this EURJPY chart we had two bearish engulfing patterns occur at the
Daily resistance. The first occurred on November 8 after a Doji indicated a
change in investor sentiment this was followed the next day by a bearish
engulfing candle confirming the change in trend. The trade was entered at the
open of the next candle at 114.191. The trade hit the Take Profit placed at
Daily support on November 12 for a profit of 300 pips. The stop loss was
placed just above the previous Doji at 130 pips.
The second trade occurred when a bearish engulfing candle failed to break
the Daily resistance at 114.73. I entered the trade at the open of the next
day's candle on November 23 at 113.531. The trade hit Take Profit the same
day when it hit the Daily support for 240 pips. Stop Loss was placed just
above the previous candle at 140 pips.
In the picture Bearish Engulfing Pattern forex system in action.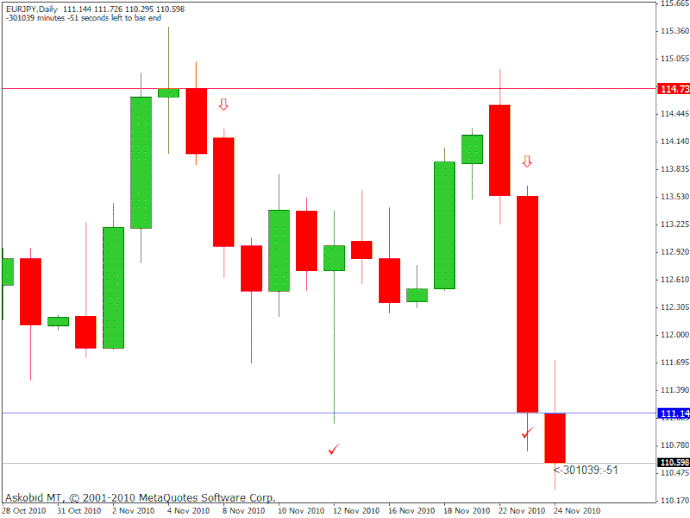 In this example a Doji candle formed on May 4 at a support at .8982. The
next day saw a bearish engulfing candle where the wick touched both the
Daily and Weekly resistance. The trade was entered at the open of the next
candle at 0.8870. The Stop was placed above the previous candle at 0.9047
for 180 Pips. Take profit was set at 0.8671 for 190 Pips.
Share your opinion, can help everyone to understand the forex strategy.

Pattern Recognition Master V.7
Forex Indicator
Pattern_Recognition_Master_v7.rar
compressed file archive
4.3 KB
Candelstick Forex Strategies