21# Renko Briks Forex Trading System
Renko Chart Trading Systems
Submit by Buddy 02/08/2013
Time Frame 5 min or higher
Currency pairs:any
Metatrader Indicator: Renko Shade2
Building Bricks:
Draw your grid lines at 20 points interval as shown in Fig 1. and 2
Look for trending swing highs and lows to know where to
start building your bricks. See fig 2. below
Trading System : EURUSD 3 Renko Brick Reversal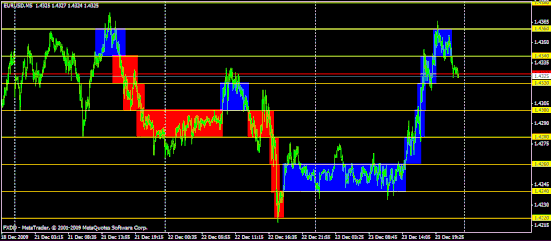 We need the market to go in one direction for 3 Renko bricks, then
we shall enter and trade in the opposite direction of the
market.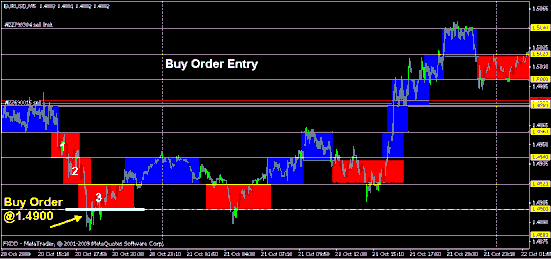 Here are a couple of entry signals just to show you and
make it very clear. The white lines show our Buy entries.
When 3 Red bricks formed we enter a Buy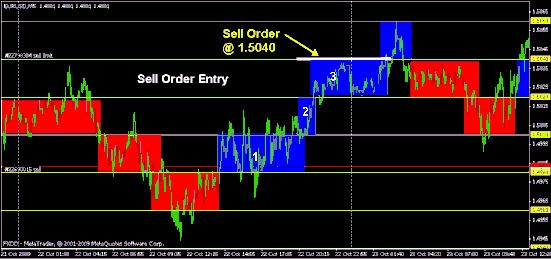 The same rule applies to sell signal, after 3 Blue bricks we
Sell.
 How to place Trades:
To enter a trade we use pending orders since we might not
be in front of the computer when we shall get the signal
which is the formation of 3 new bricks of same color, what
we need to do is follow the market closely and wait for it to
form 2 bricks of same color. Since the bricks are of equal
size. We calculate and then set our pending order to be
triggered when the market trades to our order price level.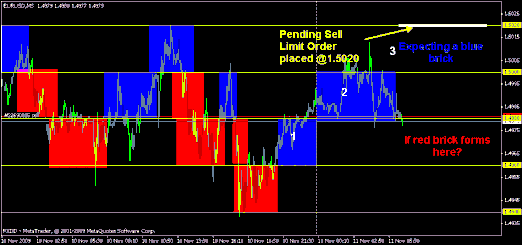 In fig. we would have placed our sell limit order at 1.5020
in anticipation that the market will trade to that level soon.
If the market did not get there right away but went down and
formed a red brick then we have to remove our Sell limit
pending order and wait for another signal coming.
We have talked about Entries, now let's talk about managing
our trade and exit strategy. The rules are quite straight
forward and easy to understand and should be executed
mechanically.
Setting: 3 Brick Reversal
• Renko Brick Size 20 pips
• Entry after 3 new bricks of same color are formed, then
you trade in the opposite direction. Example: 3 red bricks
are formed then you place a buy order. See fig below.
• Take Profit set at 3 bricks away (60 Pips).
• Stop Loss set at 2 bricks below entry (40 Pips).
• No break even or Trailing.
• Let trade either hit Take Profit or Stop Loss.
• No hedging or trading in both directions.
Example: once you are in a Buy trade you don't do any
thing (don't open a sell or another buy) until the trade is
closed then you look for the next entry, which is 3 new
bricks of same color are formed.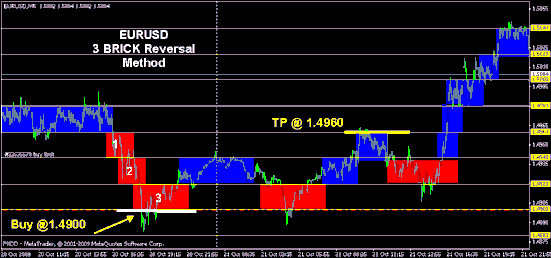 The above is a representation of how a trade will look like. For
instance we buy @1.4900 TakeProfit (TP) set @ 1.4960.
Looking at fig.13, Trade 1 was taken at 1.4960, it closed for
60 pips profit at 1.5020.
At closure we had 2 blue bricks already formed so on the
formation of the 3 brick we have to enter and trade the
reversal.
If Trade 1 was to close at the 3rd blue brick then we won't
trade the reversal we just let it pass.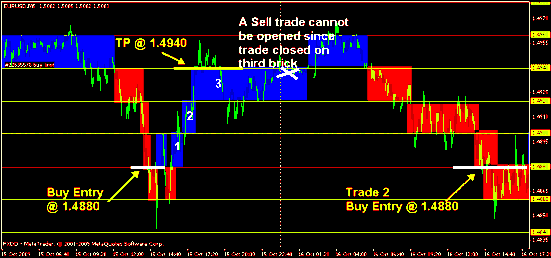 Try and observe the difference between the last two figures,
In the first one we are able to enter a sell after trade 1
because the trade closed and we were able to put a pending
order on the third brick.
But in the second figure the trade closed exactly on the 3rd
brick and we were not able to place a pending order before
Trade 1 closure. Rather the next trade will be taken at Trade
2.This rule was created to prevent trading against the trend
sometimes.
Renko Briks Forex System;Template and Indicators
Share your opinion, can help everyone to understand the forex Renko strategy.