67# FX Chaos Forex Trading System
Submit by Forexstrategiesresources
Time Frame 4H , Daily
Pairs:All
Fx Alligator,
FA AO,
FX Bar.
This expert system originates from Chaos theory introduced in the 3rdBill William's book. Read the book!After unpacking archive into the folder with trading terminal restart the terminal and put  pattern «FX-CHAOS» on the graph.
In the right corner – indicator showing the global trend, which analyses daily and weekly graphs with daily graphs priority.
 Left corner - price high/low, 5 last bars (on current time-frame)
 Fx-bar shows angulations, bar of turn
There is bar of bull turn under number 1, and bar of bear turn under number 2
 I recommend to use 4 hour and daily graphs.
 One more indicator fx-events – it gives a sound signal and informs you in pop up window that the delayed order worked and that the stop or take position was closed.
 If you work with several currencies at a time, put fx-events only on one pair otherwise signals will repeat several times.
In the pictures FX Chaos Forex system in action.
Trading System FX Chaos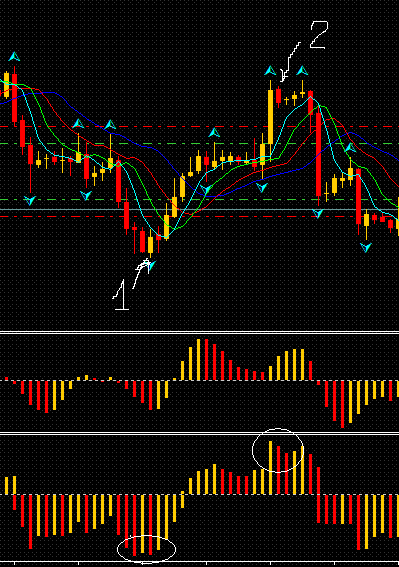 Share your opinion, can help everyone to understand the forex strategy.
Fractal Forex Strategies