2# Trading with the Camarilla Equation Market Open INSIDE 'L3
There are 4 of these 'L' levels above yesterday's close, and 4 below. They are numbered L1, L2, L3 and L4. The important levels to note are the 'L3' levels, where you take action, and the 'L4' levels that act as your stoploss points. How you specifically enter a trade depends to a great extent on the way the market opens.
Market Open INSIDE 'L3'
If the market opens INSIDE the L3 levels (i.e. BETWEEN the higher L3 and the Lower L3), you must wait for price to approach either of these two L3 levels.
Whichever L3 it hits first determines your trade.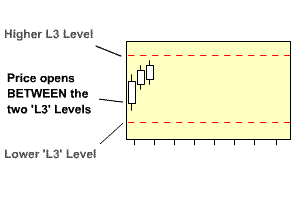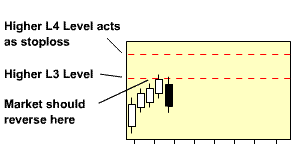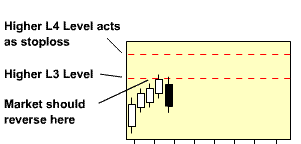 Pivot Trading
wait for price to bounce back down into the L3 level again before entering the trade, as you will therefore be technically trading WITH the short term trend. A fair amount of experience is needed for this style of trading. The opposite, of course applies if the LOWER L3 level is hit first - wait for it to come back, then go LONG.
Market Open OUTSIDE 'L3'
In this case, you wait for the market to retreat back thru the L3 level - you will then be trading WITH the trend, and once again, the L4 level acts as your stop loss. Taking profits is a matter of personal judgement - just be aware that you WILL want to take profits at some time during the day, because the market is unlikely to 'behave' and stay right-sided for your trade. These reversals from L3 appear to happen as often as 4 times out of 5 during intraday trading.
Pivot Points Forex Strategies