479# Blue-Red- Forex Strategy
FX Snipers Trading
Submit by KK trader 10/08/2013

This strategy is trend following and to look out to breakouts to take a deal, based on serveral indicators.
The forex indicators are in colour DodgerBlue and Red. That´s the name ;)
Forex Indicators
2 FX Snipers Ma indicator (2-10-0-0) (1-26-0-0) 
VQ Bars in default (5-3-1-5-false)
NRTR_Rosh_v2eAlert-mtf in default (40-2.0-true-false-true-1-1-0, colours red-dodgerblue-black-black-red-dodgerblue) 

Optional
Magnified Market Price (to better see the actual market price)
#FS30_7 (a BreakOut Signal Indicator, but not even correct)

With this one already really good trades are possible

Filters prudent and advisable
Trade What You See (default 7-50.6-300)
CCI_Histogramm (14)
Advanced_ADX (14)
SEFC084 (12)
fxfariz_scalpingM5 (set to 20)
How to trade
Simple buy when a) Indicators alert b) and/or all forex indicators and filters are blue and sell when all are red. Also pay attention to the usual main trading hours!
Interrupt or no trade when there are differences in indicators colour.

StopLoss (for my own) under or over the NRTR_Rosh indicators black line.
Take Profit for your opinion or when the colour of one indicator is changing.
Best Timeframe to me is H4, H1, M30 but it is possible to use it in lower timeframes, but no recommended.

Sorry of my faults, because english isn´t my Mother tongue.

Always nice Pips!
In the picture below Blue-Red- Forex Strategy in action.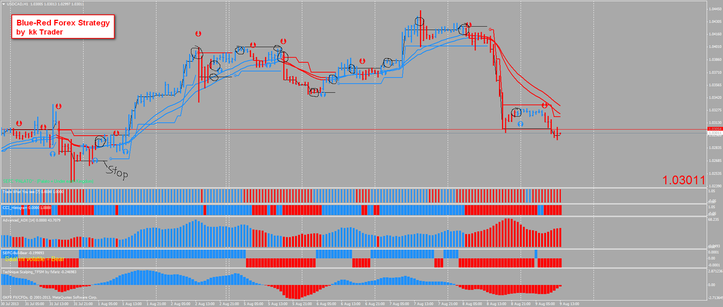 Share your opinion, can help everyone to understand the forex strategy.
Blue Red Forex Strategy

Blue-Red - Forex Strategy
Blue-Red - Forex Strategy: Indicators and Template
Blue-Red - Forex Strategy Indicators and
compressed file archive
32.7 KB